Microwave Digestion Systems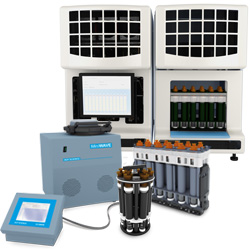 SCP SCIENCE offers 2 types of microwave digestion systems.

MultiVIEW with AutoLOADER:

MultiVIEW with AutoLOADER is a fully automated Microwave Digestion System able to digest up-to 12 samples with up to 12 different methods simultaneously- per rack. A maximum of 300 samples can be run with up to 4 AutoLOADER units connected in series.

MiniWAVE:

A budget friendly, 6 position digestion cavity with real temperature feedback running one method at a time.




Both MultiVIEW and MiniWAVE systems can use either Quartz of PFA Teflon® vessels for digestions.

Safety

· Patented auto vent and seal vessel technology

· Vessels operate at 34 atms (500 psi) and are pretested to 90 atms (1305 psi)

· 13 gauge Stainless Steel tunnel/cavity, to protect the user

· Over temperature auto shut down

· Dual explosion guards on tunnel/cavity entries

Racks and Vessels

· Volume calibrated Quartz vessels, for normalization

· No assembly PFA Teflon® vessels with Quartz sleeve supports

· Close and seal with calibrated Safety Pressure Caps with a certificate indicating pressure traceability.




MultiVIEW US Patent Numbers: 8,454,910 B2; 8,845,983; 8,852,534; 10,328,432 B2; and 10,328,432 B2.