EasyPREP Sample Handler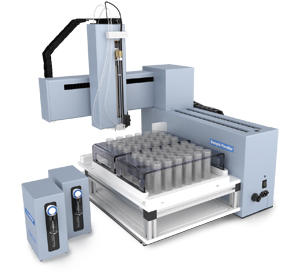 EasyPREP Sample Handler is designed for high precision reagent additions of up to 7 reagents, sample dilutions, sample aliquotting, automated pipetting and other applications. The system dispenses sample volumes from 5 µl to 100ml. The system provides a flexible lab solution for multiple applications.
EasyPREP Sample Handler comes with a PC Controller, with user-friendly software, which offers intuitive method development that is easy to configure to your sample needs.
Features:
· Maximum acid resistance via:
o Minimum metal components.
o Acid resistant Kydex and solid surfacing material for the staging table
o Electrical components that are non-vapor penetrating (switches, connections, etc).
o Electronic cards that are coated to prevent acid vapor attack.
o Acid resistant PFA Probe, Fluoropolymer tubing, polyethylene tubing and connectors, and ceramic valve.
· Dedicated Pump with all Teflonâ valve and Teflonâ dispensing barrel for safe dispensing of Hydrofluoric Acid.
· All types of autosampler racks and block digestion racks are compatible with the staging table.
| | | | | |
| --- | --- | --- | --- | --- |
| 010-400-001 | Sample Handler (110V/230V) with Software | ea | | |
| 010-400-007 | Laptop Computer with OS, French | ea | | |
| 010-400-008 | Laptop Computer with OS, English | ea | | |
| 010-400-009 | Dispensing Pump for HF 10ml | ea | | |
| 010-400-013 | Syringe Pump Cable for Pump1 to Pump 2 | ea | | |
| 010-400-018 | Dispensing Pump for 1ml, 5ml, 10ml, 25ml | ea | | |
| 010-400-019 | Dispensing Pump for 50ml | ea | | |
| 010-400-020 | Sample Handler Disp Tubing, 8ml | ea | | |
| 010-400-029 | Teflon Valve, HF | ea | | |
| 010-400-034 | Tubing Set, HF Tef Ferr, Nuts + Tubing | ea | | |
| 010-400-048 | Loop, 13 ml for Sample Handler | ea | | |
| 010-400-050 | EasyPREP Certification (1 per syringe) | ea | | |
| 010-400-057 | Ceramic Valve 9+ 1/4"-28 Universal | ea | | |
| 010-400-062 | Dispensing tip, 0.4mm ID | ea | | |
| 010-400-064 | Dispensing tip, 1mm ID | ea | | |
| 010-400-066 | Dispenser, HF, 10ml | ea | | |
| 010-400-090 | AccuNORM, Level Sensor | ea | | |
| 010-400-093 | Bubble Stirrer Disp. Tip, Single Pump | ea | | |
| 010-400-094 | Fume Hood for Sample Handler/ TitrEC | ea | | |
| 010-400-096 | Full Tray for Sample Handler | ea | | |