Home / About Us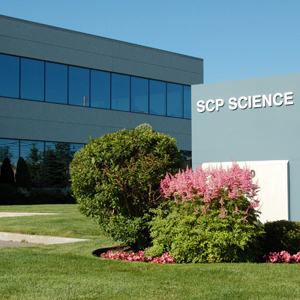 SCP SCIENCE has served the inorganic analytical chemistry market since 1980. We bring to our customers specialized products for atomic spectroscopy. The company has grown substantially in recent years through the development of extensive internal manufacturing capability, acquisition of several companies which have been incorporated into the main company, and expansion of its sales and distribution network around the world. SCP SCIENCE is ISO 9001 registered and ISO 17025 & 17034 accredited.

Corporate Capabilities Flyer

SCP SCIENCE corporate headquarters and main manufacturing facilities are located in Baie D'Urfé, Québec, on the western portion of the island of Montreal in Québec, Canada. (click here for map). Through this facility and another in Mississauga, Ontario, SCP SCIENCE supports Canadian customers with sales, service and customer application laboratories. The Baie d'Urfé facility was expanded in 2012 to 74,000 sq ft to include additional manufacturing space. Currently, the company has manufacturing expertise and capacity in inorganic reagents and standards; oil based standards (Conostan); injection moulding of acid resistant plastic products; electronic board assembly; lab instrument assembly; glass and quartz manufacturing, and the machining of plastic and metal components. The manufacturing units were greatly expanded in 2012 with an additional 35 positions created.

SCP SCIENCE serves the USA market through a 3rd Party Distribution Centre located in Champlain, NY. The European market is served through our product distribution centres in the Courtaboeuf suburb of Paris, France and in Germany. In addition, SCP SCIENCE has an extensive distribution network throughout Central and South America, Africa, Asia, New Zealand and Australia, the Middle East and Russia.

Contact us for the location of our office or distributor serving your market. Meanwhile, please join us on a tour of our Corporate Headquarters in Baie D'Urfé (Montréal).