Viscosity Standards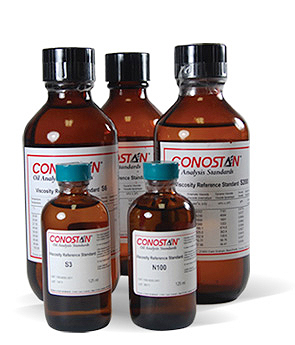 CONOSTAN® the trusted name in oil based standards announces the availability of General Purpose Viscosity Reference Standards manufactured in accordance with ASTM D2162.

CONOSTAN® certified mineral oil viscosity standards were developed for the calibration and verification of all type of viscometers, including glass capillary viscometers, rotational viscometers, cup and falling ball viscometers.

All standards are traceable to National Standards and according to ASTM & IP methods. Each standard carries a stability guarantee of up to 2 years. The determination of kinematic and dynamic viscosity values were made in accordance with ASTM D445/446 and ISO 3104/3105 and are traceable to NIST (National Institute of Standards and Technology).

All calibrations are based on the master viscometer procedures as in ASTM D2162 and the National Institute of Standards and Technology (NIST) value of 1.0016 mPa.s (centipoise) for water at 20 °C (68 °F). Custom standards within the range are available. Please contact us for the most recent information.



Viscosity Standards Flyer (PDF - Approx. 670 kb)
Catalogue Number
Kinematic Viscosity
Dynamic Viscosity
Density
VOLUME
Viscosity Standards
125 ml
500 ml
1 L
4 L
20 L
S3
150-600-351
150-600-352
150-600-353
150-600-354
150-600-355
N4
150-600-441
150-600-442
150-600-443
150-600-444
150-600-445
S6
150-600-141
150-600-142
150-600-143
150-600-144
150-600-145
N10
150-600-181
150-600-182
150-600-183
150-600-184
150-600-185
S20
150-600-221
150-600-222
150-600-223
150-600-224
150-600-225
N35
150-600-261
150-600-262
150-600-263
150-600-264
150-600-265
N44

150-600-461
150-600-462
150-600-463
150-600-464
150-600-465
S60
150-600-301
150-600-302
150-600-303
150-600-304
150-600-305
N100
150-600-341
150-600-342
150-600-343
150-600-344
150-600-345
S200
150-600-231
150-600-232
150-600-233
150-600-234
150-600-235
N350
150-600-361
150-600-362
150-600-363
150-600-364
150-600-365
N415

150-600-471
150-600-472
150-600-473
150-600-474
150-600-475
S600
150-600-241
150-600-242
150-600-243
150-600-244
150-600-245
N1000
150-600-371
150-600-372
150-600-373
150-600-374
150-600-375
S2000
150-600-381
150-600-382
150-600-383
150-600-384
150-600-385
N4000
150-600-391
150-600-392
150-600-393
150-600-394
150-600-395
S8000
150-600-401
150-600-402
150-600-403
150-600-404
150-600-405
N15000
150-600-411
150-600-412
150-600-413
150-600-414
150-600-415
S30000
150-600-421
150-600-422
150-600-423
150-600-424
150-600-425
Kinematic Viscosity in mm2/s (Centistokes)

Saybolt
Viscosity

Viscosity Standards

20 °C/
68 °F
25 °C/
77 °F
37.78 °C/
100 °F
40 °C/
104 °F
50 °C/
122 °F
60 °C/
140 °F
80 °C/
176 °F
98.89 °C/
210 °F
100 °C/
212 °F
37.78 °C/
100 °F
S3
4.5
4.0
3.0
2.8
2.4
2.0
1.5
1.2
1.2
N4
6.7
5.8
4.2
4.0
3.2
2.6
1.9
1.5
1.4

S6

10
8.8
6.0
5.7
4.5
3.6
2.5
1.9
1.9
N10
21
17
11
10
7.5
5.8
3.7
2.7
2.6
S20
46
35
20
18
13
9.0
5.6
3.6
3.5
87

N35

90
67
36
32
21
15
8.4
5.4
5.3
167
N44
110
86
48
44
30
21
12
7.6
7.4
220
S60
160
119
60
54
35
26
12
7.7
7.5
281
N100
318
228
110
97
60
39
20
11
11
509
S200
715
487
206
180
103
64
30
17
16
954
N350
1400
940
370
330
180
110
46
24
23
1730
N415
1900
1200
480
410
220
130
55
29
28
2200
S600
2380
1560
595
511
273
158
64
33
32
N1000
5100
3300
1200
1000
520
290
110
52
50
S2000
8200
5200
1900
1600
780
400
150
70
68
N4000
18000
11000
3900
3300
1600
840
280
123
117
S8000
37000
23000
7900
6700
3200
1600
520
210
200
N15000
64000
40000
13000
11000
5300
2700
850
340
320
S30000
80000
28000
23000
11000
5800
1700
670
640
Dynamic Viscosity in mPa.S (Centipoise)

Saybolt
Viscosity

Viscosity
Standards

20 °C/
68 °F
25 °C/
77 °F
37.78 °C/
100 °F
40 °C/
104 °F
50 °C/
122 °F
60 °C/
140 °F
80 °C/
176 °F
98.89 °C/
210 °F
100 °C/
212 °F
37.78 °C/
100 °F
S3
3.7
3.3
2.4
2.3
1.9
1.6
1.2
0.9
0.9
N4
5.6
4.8
3.4
3.2
2.6
2.1
1.5
1.1
1.1

S6

8.7
7.3
5.0
4.7
3.6
2.9
2.0
1.5
1.4
N10
18
14
9.0
8.4
6.2
4.7
3.0
2.1
2.1
S20
40
30
17
15
11
7.6
4.7
2.9
2.9
87

N35

78
59
31
28
18
13
7.0
4.4
4.3
167
N44
91
71
39
36
24
17
9.4
6.0
5.8
220
S60
138
102
52
46
30
22
9.9
6.3
6.1
281
N100
276
197
94
83
51
33
16
9.4
9.1
509
S200
613
416
174
152
87
54
24
15
13
954
N350
1200
810
320
280
150
92
38
20
19
1730
N415
1600
1100
410
350
190
110
45
23
23
2200
S600
2063
1348
510
437
232
133
53
27
26
N1000
4400
2800
1000
940
440
240
92
43
41
S2000
7200
4500
1600
1400
670
340
130
58
56
N4000
16000
9700
3400
2900
1400
720
240
100
98
S8000
33000
20000
6900
5900
2800
1400
440
180
170
N15000
57000
36000
11000
9700
4700
2400
730
290
270
S30000
72000
25000
20000
9700
5100
1500
570
550
Density in g/ml in accordance with ASTM D7042

Viscosity Standards
20 °C/
68 °F
25 °C/
77 °F
37.78 °C/
100 °F
40 °C/
104 °F
50 °C/
122 °F
60 °C/
140 °F
80 °C/
176 °F
98.89 °C/
210 °F
100 °C/
212 °F
S3
0.833
0.830
0.821
0.820
0.813
0.806
0.792
0.779
0.778

N4

0.834
0.831
0.822
0.820
0.814
0.807
0.793
0.780
0.780

S6

0.831
0.828
0.819
0.818
0.811
0.805
0.791
0.779
0.778
N10
0.842
0.839
0.831
0.829
0.823
0.816
0.804
0.791
0.791
S20
0.871
0.868
0.860
0.859
0.852
0.846
0.833
0.821
0.820

N35

0.872
0.869
0.861
0.860
0.853
0.847
0.834
0.823
0.822
N44
0.828
0.825
0.817
0.816
0.809
0.803
0.791
0.779
0.779
S60
0.863
0.860
0.852
0.851
0.845
0.839
0.826
0.815
0.814
N100

0.867

0.864
0.857
0.855
0.849
0.843
0.831
0.820
0.819
S200
0.858
0.855
0.847
0.846
0.840
0.834
0.822
0.910
0.810
N350
0.863
0.860
0.852
0.851
0.845
0.839
0.827
0.816
0.815
N415
0.865
0.862
0.854
0.853
0.847
0.841
0.830
0.819
0.818
S600
0.867
0.864
0.856
0.855
0.849
0.843
0.832
0.821
0.820
N1000
0.872
0.869
0.862
0.860
0.855
0.849
0.837
0.826
0.826
S2000
0.876
0.873
0.865
0.864
0.858
0.853
0.841
0.831
0.830
N4000
0.882
0.879
0.872
0.871
0.865
0.860
0.849
0.838
0.838
S8000
0.888
0.885
0.878
0.877
0.872
0.866
0.855
0.845
0.845
N15000
0.893
0.891
0.884
0.883
0.877
0.872
0.861
0.851
0.851
S30000
0.896
0.889
0.888
0.883
0.877
0.867
0.857
0.857
| Catalogue | Description | UM | | |
| --- | --- | --- | --- | --- |
| 150-600-141 | Viscosity Standard, S6 | 125ml | | |
| 150-600-142 | Viscosity Standard, S6 | 500ml | | |
| 150-600-143 | Viscosity Standard, S6 | L | | |
| 150-600-144 | Viscosity Standard, S6 | 4L | | |
| 150-600-145 | Viscosity Standard, S6 | 20L | | |
| 150-600-181 | Viscosity Standard, N10 | 125ml | | |
| 150-600-182 | Viscosity Standard, N10 | 500ml | | |
| 150-600-183 | Viscosity Standard, N10 | L | | |
| 150-600-184 | Viscosity Standard, N10 | 4L | | |
| 150-600-185 | Viscosity Standard, N10 | 20L | | |
| 150-600-221 | Viscosity Standard, S20 | 125ml | | |
| 150-600-222 | Viscosity Standard, S20 | 500ml | | |
| 150-600-223 | Viscosity Standard, S20 | L | | |
| 150-600-224 | Viscosity Standard, S20 | 4L | | |
| 150-600-225 | Viscosity Standard, S20 | 20L | | |
| 150-600-231 | Viscosity Standard, S200 | 125ml | | |
| 150-600-232 | Viscosity Standard, S200 | 500ml | | |
| 150-600-233 | Viscosity Standard, S200 | L | | |
| 150-600-234 | Viscosity Standard, S200 | 4L | | |
| 150-600-235 | Viscosity Standard, S200 | 20L | | |