EasyPREP Sample Handler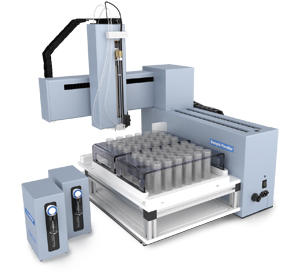 EasyPREP Sample Handler is designed for high precision reagent additions of up to 7 reagents, sample dilutions, sample aliquotting, automated pipetting and other applications. The system dispenses sample volumes from 5 µl to 100ml. The system provides a flexible lab solution for multiple applications.
Typical Sample Procedure:
Weigh samples into tared 50 ml DigiTUBEs or 50 / 75 ml NovaWAVE vessels.

Add acid and other reagents using EasyPREP Sample Handler.

Digest samples on a DigiPREP Graphite Block or using NovaWAVE Microwave Digestion Systems.

Once digested, add internal standard with EasyPREP Sample Handler directly into the digestion tube.

Normalize to your method's volume with AccuNORM.

EasyPREP Sample Handler can then transfer an aliquot to autosampler tubes or can perform several different dilutions on the same sample, directly to assigned autosampler tubes, reducing the risk of sample carryover in between samples.

With EasyPREP Sample Handler and DigiTUBEs, automatically transfer normalized samples to autosampler tubes in AA / ICP OEM racks.

Analyze samples.
Request More Information
| Catalogue | Description | UM | | |
| --- | --- | --- | --- | --- |
| 010-400-001 | Sample Handler (110V/230V) with Software | ea | | |
| 010-400-006 | Desktop computer with screen | ea | | |
| 010-400-007 | Laptop Computer with OS, French | ea | | |
| 010-400-008 | Laptop Computer with OS, English | ea | | |
| 010-400-094 | Fume Hood for Sample Handler/TitrEC | ea | | |
Displaying items 1 - 5 of 5