Single Ion Chromatography Standards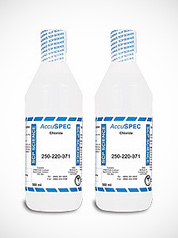 All of our IC Standards are manufactured in accordance with ISO 17034 Quality Management System requirements, and can be used for calibration, QC checks, or performance evaluation purposes. Traditional calibration standards and eluents as well as custom multi-element solutions are available. All standards come with a complete Certificate of Analysis with NIST traceability.
Eluents available as concentrates or working solutions

Save time and labor by purchasing prepared calibration standard

Eluents prepared following rigid specifications; less baseline variation

Standards designed to your specifications

Expiry date of 21 months unopened, and 12 months opened

For our flyer on AccuSPEC Ion Chromatography Standards, please click here.

| Catalogue | Description | UM | | |
| --- | --- | --- | --- | --- |
| 250-221-100 | Acetate, IC Standard, CH3COO-, 10 000ppm | 125ml | | |
| 250-221-101 | Acetate, IC Standard, CH3COO-, 10 000ppm | 500ml | | |
| 250-220-100 | Acetate, IC Standard, CH3COO-, 1000ppm | 125ml | | |
| 250-220-101 | Acetate, IC Standard, CH3COO-, 1000ppm | 500ml | | |
| 250-220-115 | Ammonia-Nitrogen IC Std, 1000 ppm | 125ml | | |
| 250-220-116 | Ammonia-Nitrogen IC Std, 1000 ppm | 500ml | | |
| 250-220-130 | Ammonium IC Standard, NH4(+), 1000ppm | 125ml | | |
| 250-220-131 | Ammonium IC Standard, NH4(+), 1000ppm | 500ml | | |
| 250-220-175 | Barium,IC Standard, 1000ppm | 125ml | | |
| 250-220-176 | Barium,IC Standard, 1000ppm | 500ml | | |
| 250-220-220 | Bromate,IC Standard, BrO3, 1000ppm | 125ml | | |
| 250-220-221 | Bromate,IC Standard, BrO3, 1000ppm | 500ml | | |
| 250-220-235 | Bromide IC Standard, Br-, 1000ppm | 125ml | | |
| 250-220-236 | Bromide IC Standard, Br-, 1000ppm | 500ml | | |
| 250-221-235 | Bromide, IC Standard, 10000ppm | 125ml | | |
| 250-221-236 | Bromide, IC Standard, 10000ppm | 500ml | | |
| 250-221-790 | Butyrate, IC Std, C4H7O2(-), 10 000 ppm | 125ml | | |
| 250-220-790 | Butyrate, IC Std, C4H7O2(-), 1000 ppm | 125ml | | |
| 250-220-791 | Butyrate, IC Std, C4H7O2(-), 1000 ppm | 500ml | | |
| 250-220-250 | Calcium IC Standard, Ca2+, 1000ppm | 125ml | | |