Page 11 - Catalog Instruments and Supplies
P. 11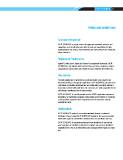 SCP SCIENCE 11

                                terms and conditions

Customer Response:

SCP SCIENCE is at your service. We appreciate comments, criticism, and
suggestions, and we will make every effort to meet your expectations for high-
quality products and services. If you would like your name added to our mailing list,
please contact us.

Registered Trademarks:

Agilent®, Perkin Elmer®, Varian and Thermo® are registered trademarks. SCP
SCIENCE is not affiliated with or licensed by any of these companies. Original
manufacturers' part numbers are provided for cross-reference information only.

Disclaimer:

Products supplied are for laboratory use only and should not be used for any
household, medical, or therapeutic applications. SCP SCIENCE presumes that
only trained and qualified individuals who are familiar with procedures suitable to
the products ordered will handle them. Our customers are solely responsible for the
safe storage, handling and use of these products.
SCP SCIENCE is currently exempt from the REACH registration requirement
(Regulation on Registration, Evaluation, Authorisation and Restriction of Chemicals)
as the quantities exported to the European Union do not exceed the minimal
quantitiy threshold.

Distribution:

SCP SCIENCE products are available worldwide through a network of
distributors. Please contact SCP SCIENCE directly for the name and contact
information of your local distributor. Distributor terms and conditions may vary.
SCP SCIENCE is constantly searching for new distributors. If you feel that
your company is an excellent match, please complete and return our distributor
registration form. One of our international sales managers will be happy to contact
you.